Product Description
Mid-set milking parlor
Automatic mid-set milking parlor can provide automated milking for dairy farm through the configuration of the vacuum system and automatic milking system. middle set dairy milking parlor has high degree of automation, 99% recognition rate, simple operation, low degree of work, low energy consumption, the precision of measurement.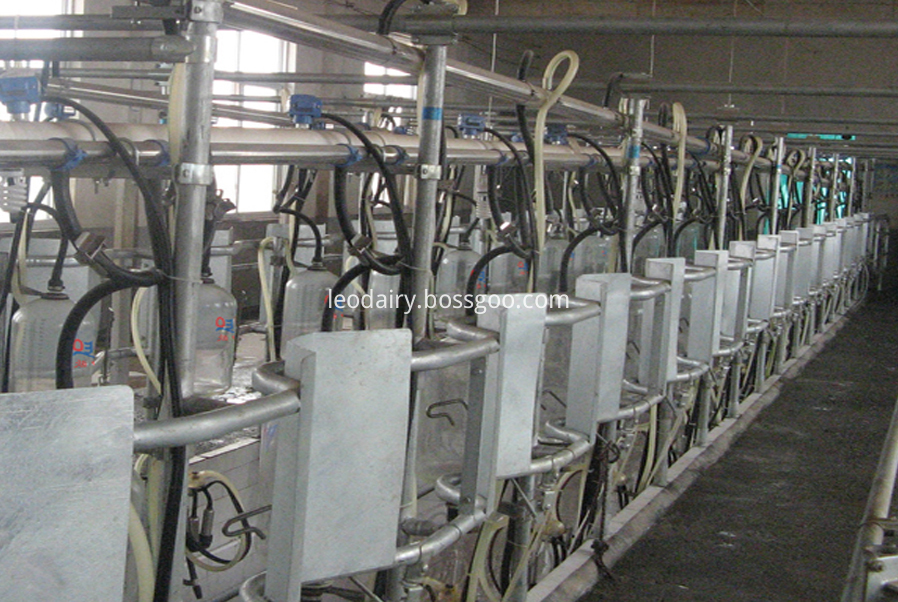 Features of middle set milking parlor:
1. Electronic Milk Measurement system
2. Automatic Cluster Remover system (Automatic Detacher)
3. Stimulation Massage Nipple
4. Full Automatic Surfing Cleaning system
5. Medicated Bath Spray system
6. Quick- release Canopy Frame system
8. Pulsator imported from Italy, one pulsator for 1 cow
9. Liner imported from England
10. All pipeline which touch fresh milk is SS304 food grade
11. PVC pipeline is LESSO brand with very high quality in China
12. All PVC pipeline and Stainless steel pipeline is overstriking into 76' to support the Automatic Surfing Cleaning system
13. Folding cleaning plate
14. Automatic cleaning tank
15. Rotary vane of vacuum pump is imported from Germany
16. The material of pump and it's rotor are nodular cast iron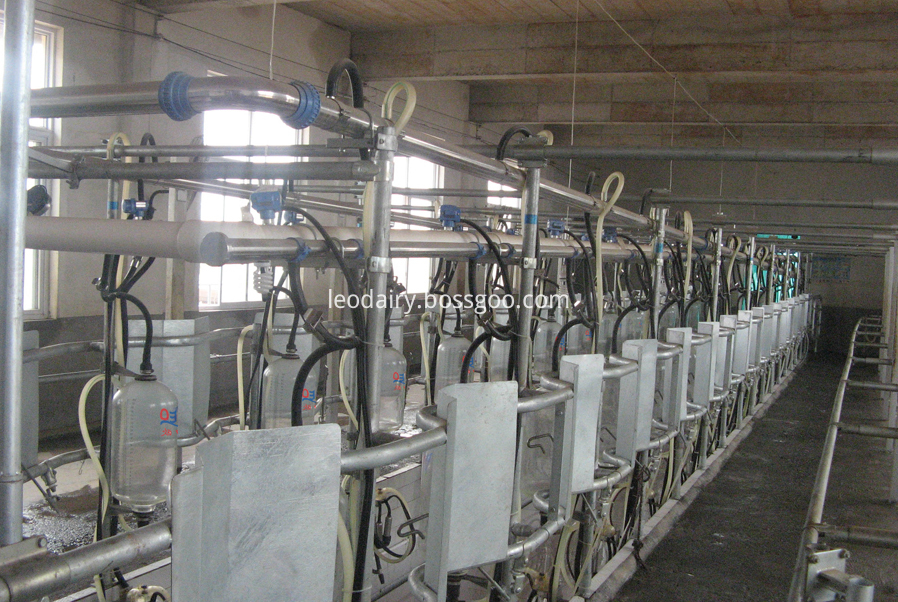 LEO is the largest and most powerful technology dairy manufacturing enterprise.Our products including milk cooling tanks, milk storage tanks, milking machines, road milk tanker and TMR feed mixers, milking parlor, mid-set milking parlor. automatic mid-set milking parlor, fishbone milking parlor, parallel milking parlor.
LEO Group which restructured by a former military enterprise in 1999,and gradually developed into a research and development, design and manufacturing, sales, engineering,installation and service in an integrated group of companies. becomes the China Dairy Industry Association, China Dairy Industry Association member units, Henan Dairy Association governing units, the Ministry of Agriculture in 2009 was listed as agricultural subsidies sentinel enterprises.LEO Group Company existing staff 600 people, professional and technical personnel accounting for 20% of total employees. The company occupies 250,000 square meters, registered capital 30 million, total assets 80 million, annual sales value of over a hundred million.LEO machinery is China's first company which dedicated in milk cooling tanks, milk storage tank research and application.Back in the ages of 1999 EU aids Chinese dairy project LEO had participated in provide a large number of ancillary products.Over the years, LEO has developed and introduced bio-cooling tanks, milking machines, bulk milk cooler, refrigeration tank heat recovery device and TMR feed mixers etc.LEO always leading the Chinese dairy machinery development trend.LEO has invested millions of money for production, research and production equipment modification and the introduction of foreign advanced equipment which is the first enterprise using automatic resistance welding machine and laser welding machine/ automatic welding equipment/automatic foam equipment , seal head automatic spinning equipment, and automatic TIG welding equipment. Which is the Strong guarantee For high quality products.Choose true suppliers, LEO will be your loyal partner.